Chief Executive Officer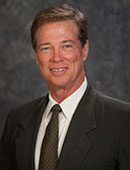 James E. (Jim) Harrison
Chief Executive Office
James E. (Jim) Harrison is an Assistant County Administrator for Orange County. He is responsible for professional and technical staff in Public Works and the Office of Regional Mobility, and acts as a senior policy advisor on regional transportation issues for the County.
Jim joined Orange County after working several years as a private engineering consultant. Before becoming Assistant County Administrator Jim held several positions in Orange County, including Senior Engineer in Public Works, Manager of Public Works Engineering, Director of Growth Management and Director of Regional Mobility.
Jim has a broad educational background, holding a Bachelor of Science degree in Engineering and a Master of Applied Economics (cum laude) with a focus on public finance from the University of Central Florida. He received his Juris Doctor from the Barry University School of Law, where he was editor-in-chief of the Barry Law Review and graduated summa cum laude.
Jim is a member in good standing of the Florida Bar, a licensed Professional Engineer in Florida, and a past member of the American Institute of Certified Planners.
Jim is proud to be a Florida native, and although he has lived and worked in Orange County for over 30 years he visits his family and childhood home in Melbourne frequently. In his spare time, Jim enjoys adventure travel, mountain biking and boating.