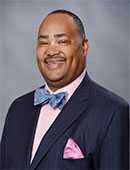 Edward L. Johnson
Chief Executive Officer
407-254-6063
eljohnson@golynx.com
@lynxbusceo (twitter link)

Edward L. Johnson has more than 20 years experience in the transportation industry including 13 prior years with LYNX. Previously, he was the chief administrative officer (CAO) for the Metropolitan Atlanta Rapid Transit Authority (MARTA).
As CAO, Johnson oversaw MARTA's architectural services, information technology, human resources, police, safety and the strategic planning departments.
During his tenure at MARTA, Johnson led the development of two sales tax referendum packages for the expansion of bus and rail operations. Both were overwhelmingly approved by the voters. Johnson also led a team in establishing a pilot to test a mobile fare payment system across all modes of transit services. Additionally under his leadership MARTA installed Wi-Fi on buses, CCTV on buses and rail cars, video analytics in facilities and developed a real-time mobile application.
During his previous tenure at LYNX, he served as the interim CEO, GM, CAO, Chief of staff and the manager of operations support/development.
Prior to joining LYNX, he worked in his native Alabama with the Birmingham-Jefferson County Transit Authority (MAX), where he served as the grants and planning manager. While working at MAX, he successfully saved tens of millions of dollars in grant funds that were in jeopardy of being returned to the federal government and he was one of the forerunners in Alabama for the Federal Transit Administration grant administration program.
Johnson was recognized as one of Orlando Business Journal's 2018 CEOs of the Year. This award recognizes his strong focus on innovation, outstanding performance and community involvement. He was recently appointed to serve on the Board of Directors of the American Public Transportation Association (APTA) and also serves on the Board of Directors at Lighthouse Central Florida. During his previous tenure, he served on various local boards including the American Red Cross Mid-Florida Region, MetroPlan Orlando Economic Development Commission – Investor Relations Committee, Central Florida Urban League and the Hankins-Johnson Education Foundation. Johnson is the incoming Chair for Florida Public Transportation Association (FPTA).
A recipient of the Orlando's Business Journal's 40 Under 40 Award, Johnson earned his bachelor's and master's degrees from Jacksonville State University in Alabama. He also is a graduate of the Eno Transportation Executive Leadership Program, Leadership Orlando and served in the U.S. Army Reserves as an infantry platoon leader.