LYNX 25 Celebration
June 14, 2018

We are celebrating 25 years of moving Central Florida.
Throughout the next few months LYNX will celebrate the agency's 25th anniversary and some of the many successes from the past quarter century in helping to improve transportation in Central Florida.
We are kicking off with several festivities to commemorate the silver anniversary and to thank our riders, community supporters and employees. Bus riders will be treated to surprise giveaways and entertainment on buses, at bus stops and in the terminal at LYNX Central Station.
History
In 1992, when a gallon of gas was $1.05 and roundtrip bus fare was less than $1.50, authority leaders made a concerted effort to rebrand the local public bus system to attract more riders. Tri-County Transit, the former name of the bus agency, became LYNX after a public renaming contest was held. Frances Morrison, an Orlando homemaker and grandmother, won the "Whatchamacallit" contest. Morrison not only unveiled the newly rebranded vehicle — a bus emblazoned with the new LYNX cat logo and painted a bright raspberry pink. More buses, in a wide range of bright hues and as a nod to an already vibrant city, would later make up the agency's entire fleet. Known for its colorful buses and creative marketing team, LYNX would become synonymous with fun, fresh and innovative designs throughout the transit industry.
During the past 25 years, LYNX has grown to include the following services:
ACCESS LYNX – paratransit service.
LYMMO – downtown Orlando's circulator. The nation's first bus rapid transit system.
NeighborLink – flex-service routes designed to make it easier for residents in outlying service areas.
KnightLYNX – a partnership with UCF Student Government Association to provide safe Friday and Saturday evening service for students.
FastLink – – a weekday morning and afternoon commuter service designed to reduce stops along specific corridors providing a quicker trip.
Xpress Bus – limited stop bus service from Downtown Kissimmee to Sand Lake SunRail Station.
Vanpool – commuter services for which LYNX provides the vans.
Road Rangers presented by State Farm – roadside assistance program for disabled vehicles on I-4.
LYNX currently operates more than 500 fixed-route and paratransit vehicles in a 2,500 square-mile service area. During the past year LYNX has added Wi-Fi to all buses and unveiled four mobile applications: PawPass, a mobile payment system; LYNX Bus Tracker, real-time information; NeighborLink, a trip booking app; and LYNX See & Say, incident reporting. In fiscal year 2017, LYNX provided 83,000 rides each weekday and more than 26 million trips.
Schedule of Events

25 Days of Giveaway:
Wednesday, June 20 - LYNX Central Station 12:00 p.m. - 1:00 p.m.
Friday, June 29 - LYNX Kissimmee Intermodal Station 1:00 - 2:00 p.m.
Monday, July 9 - Washington Shores SuperStop 12:00 p.m. - 1:00 p.m.
Monday, July 9 - Rosemont SuperStop 3:00 p.m. - 4:00 p.m.
Wednesday, July 11 - Florida Mall SuperStop 12:45 p.m. - 2:00 p.m.
*Additional locations to be announced.
Trivia Tuesday:
Every Tuesday a LYNX Trivia question will be asked on Twitter and Facebook. Anyone who provides the correct response will enter for a chance to win a 7-Day bus pass.
RULES:
Prizes MUST be picked up at LYNX Central Station terminal Customer Service window.

Valid photo ID must be presented to receive prizes.
*This promotion is in no way sponsored, endorsed or administered by, or associated with Facebook or Twitter. Employees of Central Florida Regional Transportation Authority d.b.a. (LYNX) their respective affiliates, subsidiaries, advertising and promotion agencies, suppliers and their immediate family members and/or those living in the same household of each are not eligible to participate in the Giveaway. Winners will be chosen randomly.
Bus Wraps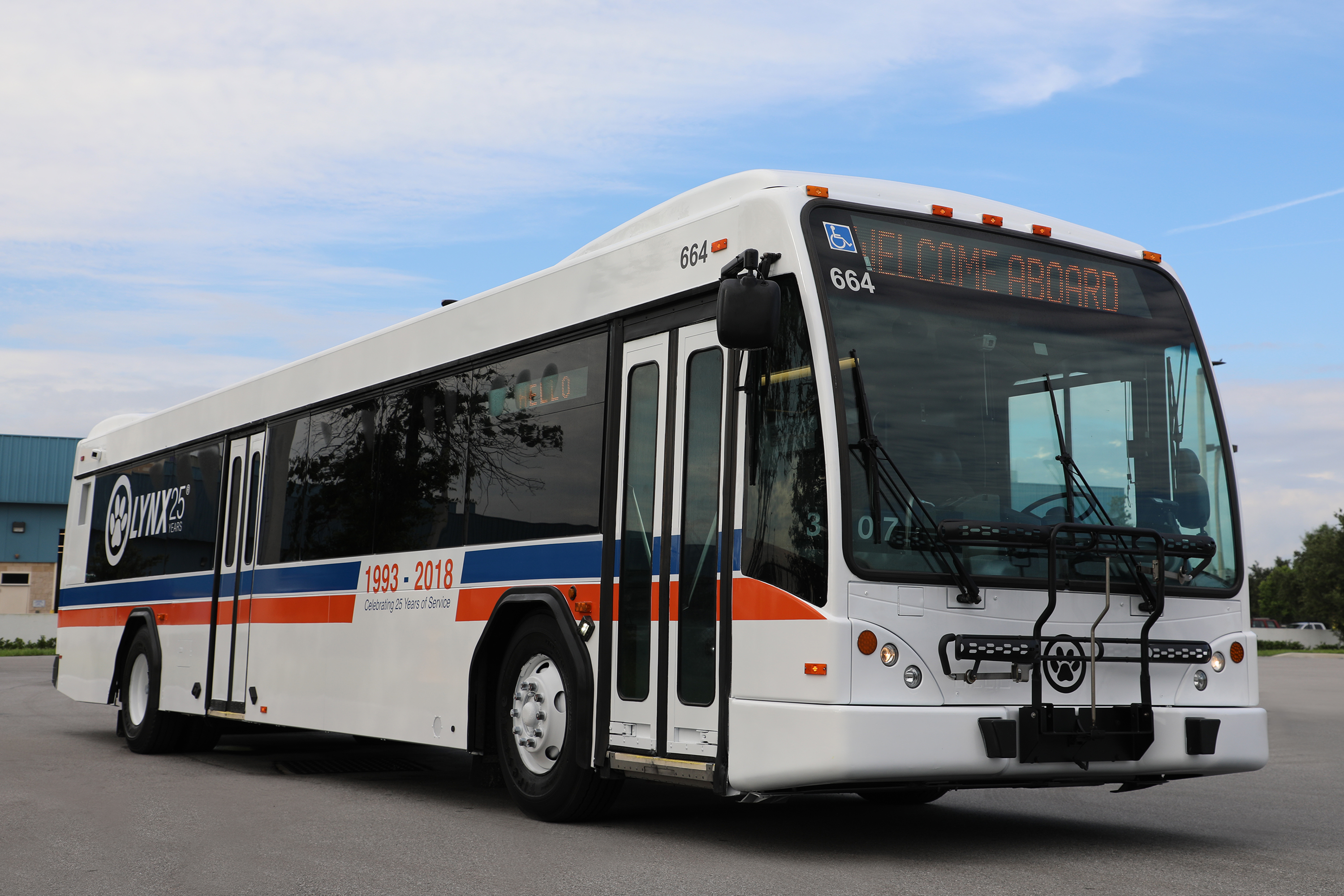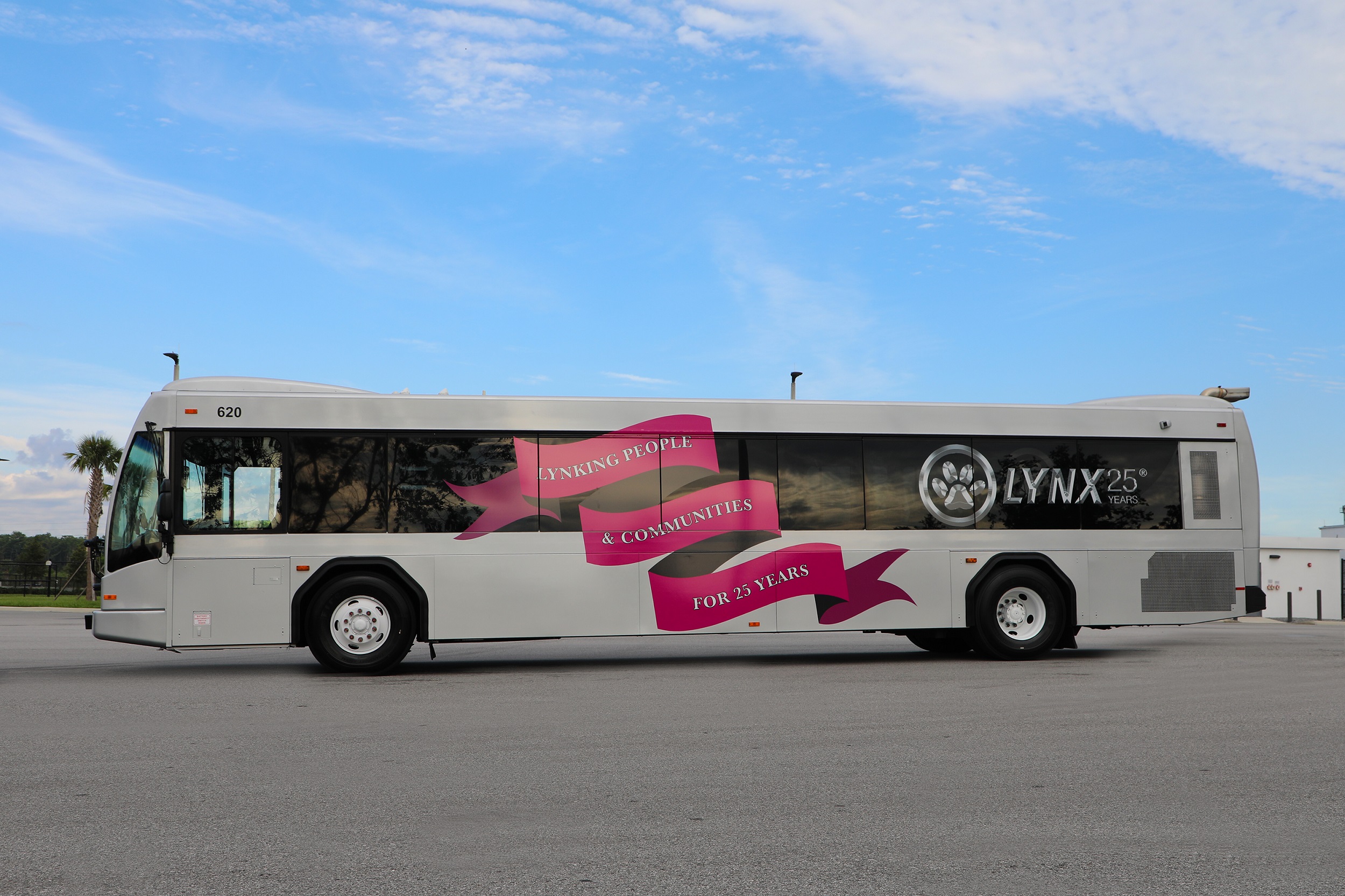 LYNX25 Video